In our modern day culture where the big blockbuster movies are those where every scene is created where one or more heroes is thrust into a series of challenges that require physical feats, extended fights and frenetic chases. They tend to feature a resourceful character struggling against incredible odds, which may involve life-threatening situations, an evil villain, and/or being pursued, with victory achieved at the end after difficult physical efforts and violence. There are movies however, some of them classics, where romance, emotion and "happy ever after" still rule the screen.These are the ones that send shivers down your spine and leave you smiling. If you're ready for a little romantic viewing, take a look at one of the following – some will make you laugh, some will make you cry, some will make you do both, but all will make you feel!
10:  Twilight (2008)

Twilight is a 2008 American romantic fantasy film based on Stephenie Meyer's popular novel of the same name. Directed by Catherine Hardwicke, the film stars Kristen Stewart and Robert Pattinson. It is the first film in The Twilight Saga film series. This film focuses on the development of the relationship between Bella Swan (a teenage girl) and Edward Cullen (a vampire), and the subsequent efforts of Cullen and his family to keep Swan safe from a coven of evil vampires.
Love it or hate it, you can't deny how massive the Twilight effect was. The moment Cullens arrived at the school cafeteria in Twilight, the world as we know it changed forever. Suddenly, vampires sparkled, sulking became attractive, and werewolves couldn't keep their clothes on. Call it the snowball effect or mere coincidence, but all of a sudden, almost everyone wanted a piece of supernatural pie, and wanted to masticate someone's neck with their fangs. The Twilight Saga ends this month with Breaking Dawn: part 2; we can't wait to see the final battle, catch a glimpse on Edward and Bella's daughter, Renesmee, and watch for the imprint the saga will leave in Hollywood.
9. 50 First Dates (2004)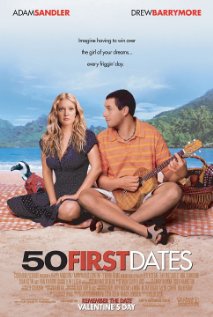 Adam Sandler and Drew Barrymore star together for the first time since The Wedding Singer in one of the funniest romantic comedies in years. Henry (Sandler) lives an enviable life in a Hawaiian paradise, spending every night with a beautiful tourist in search of an island fling. It's a sweet life with no strings attached…until he meets Lucy (Barrymore). He and Lucy hit it off from the get-go, but the next day she acts like she doesn't know him. Has his karma come around to kick him in the butt or what? Actually, Lucy has short-term memory loss so every night all memory of her day is erased. But a man in love will go to any lengths to win over the girl of his dreams, and if that means having to find imaginative ways of doing it over again every day, then Henry's up for the challenge.
Adam Sandler's character, Henry Roth, is a man afraid of commitment up until he meets the beautiful, forgetful Lucy (Drew Barrymore). They hit it off and Henry think he's finally found the girl of his dreams, until he discovers she has short-term memory loss and forgets him the very next day. It turns out, she forgets him everyday. Think about how hard it would be if our relationships work like this? Every day isn't a great day. Some are great. Some are horrible. Every morning he must work to win her affections. His efforts made my watching worthwhile. It's such a romantic, touching and hilarious story! Even someone doesn't quite favor love movie like me can't help being moved.
8. Just Like Heaven (2005)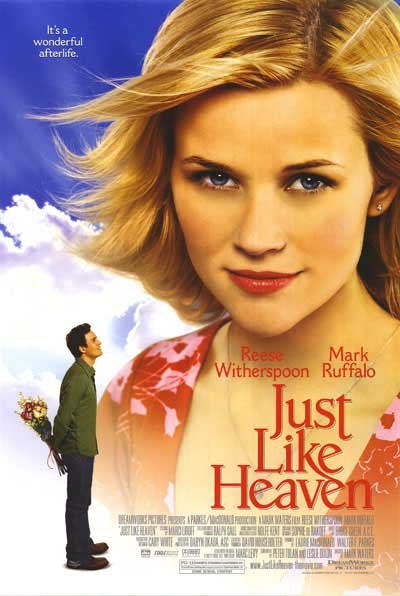 A couple who live on different sides of the divide of life and death discover just how many boundaries love can cross in this romantic comic fantasy. Elizabeth (Reese Witherspoon) is a hardworking and dedicated medical resident who, after 20 hours on duty, is heading home when she falls asleep at the wheel of her car and is involved in a fatal auto accident. Several weeks later, a man named David (Mark Ruffalo) takes over the lease on Elizabeth's apartment, but he discovers that she hasn't quite
One of the best times I've had at the movies in a while. It's not perfect. It's not very deep. But it's a whole lot of fun and even a little moving. While the picture adheres to romantic-comedy formula, it's not entirely formulaic, and the actors, who appear to be having fun, give it a bright and undeniable appeal. It is really entertaining watching a ghost who doesn't even know she is a ghost. At one point, Reese was arguing that she was completely normal while her ghostly image is being split in half by the dining room table. Reese and Mark are generating enough screen chemistry to insure a teary-eyed finale that'll make you forget the fact that you're watching a shameless rip-off.
7.  Eternal Sunshine Of The Spotless Mind (2004)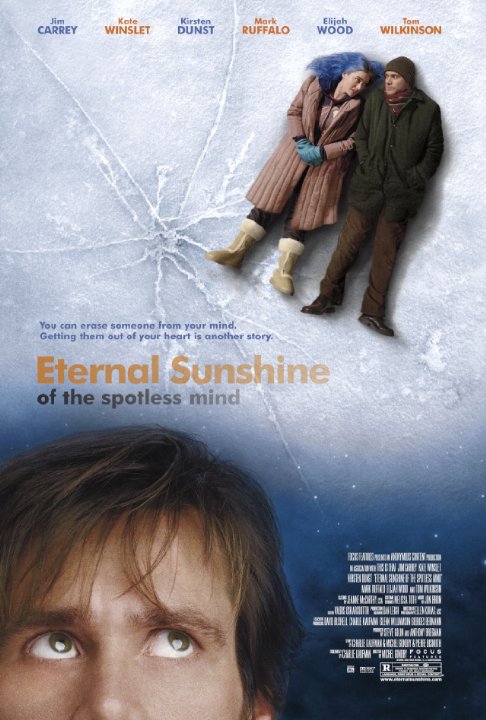 Eternal Sunshine of the Spotless Mind is a 2004 American romantic science fiction film about an estranged couple who have each other erased from their memories, scripted by Charlie Kaufman and directed by the French director, Michel Gondry. The film uses elements of science fiction,psychological thriller, and nonlinear narration to explore the nature of memory and romantic love. It opened in North America on March 19, 2004, and grossed over US$70 million worldwide.
Kaufman and Gondry worked on the story with Pierre Bismuth, a French performance artist. The film stars an ensemble cast that includes Jim Carrey, Kate Winslet, Kirsten Dunst, Mark Ruffalo, Tom Wilkinson, Elijah Wood, Jane Adams, and David Cross.
Mind-numbingly awesome and romantic at the same time. What more can you want from a movie? A thought provoking film that will stay with you forever! The best of its kind, but no other of its kind can be found. Totaly differnt kind of romantic movie based on believe in love. Based on the sci-fi concept, really takes your heart away. It's mind-blowing awesome and totally different. A new hot twist on romance. Jim Carey and Kate Winslet are amazing together. It's a must see.
6. Pride & Prejudice (2005)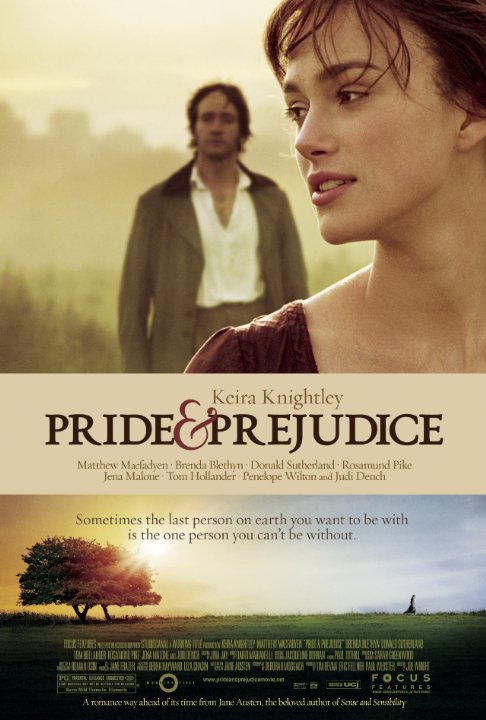 Pride & Prejudice is a 2005 British romance film directed by Joe Wright and based on Jane Austen's 1813 novel of the same name. The film depicts five sisters from an English family of landed gentry as they deal with issues of marriage, morality and misconceptions. Keira Knightley stars in the lead role of Elizabeth Bennet, while Matthew Macfadyen plays her romantic interest Mr. Darcy. Produced by Working Title Films in association withStudioCanal, the film was released on 16 September 2005 in the United Kingdom and Ireland and on 11 November in the United States.
The definition of love story. You will fall in love with this film. I watch it over and over again and never get tierd of it. I love the romantic tension that just keeps on building up between the two main characters throughout the movie. She is pretty, intelligent etc. One of the sweetest movie I've ever seen. I love how it is pictured beautifully. It brings to life a wonderful story written by Jane Austen. Great actings, clothing, scenery. Romance, humour, all knitted into a story to make it best movie of all times.
5. A Walk to Remember (2002)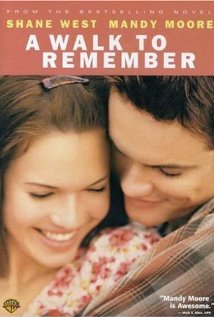 A Walk to Remember is a 2002 American coming-of-age teen romantic drama film based on the 1999 romance novel of the same name by Nicholas Sparks. The film stars Shane West and Mandy Moore, was directed by Adam Shankman, and produced by Denise Di Novi and Hunt Lowry forWarner Bros. The novel is set in the 1950s while the film is set in 1998.
This movie is beautiful. It's a perfect love story between 2 people from different worlds, but yet so similar. Sometime you find it hard to believe in love stories when the world is crushing down under our feet. Those are the times when you lose faith in yourself. But always remember that God is here, He can see your pain and your tears, and when it's the right moment, all you have to do is to open your heart and your soul to look up and find an Angel sent by God to wipe your tears and cure your broken heart. And that's the truth behind this incredible love story. Just believe and open your heart for the symphony of love and you won't regret.
4. Step Up (2006)  
Step Up is a 2006 American dance/romance film directed by Anne Fletcher starring Channing Tatum and Jenna Dewan.Set in Baltimore, Maryland, the film follows the tale of the disadvantaged Tyler Gage (Channing Tatum) and the privileged modern dancer Nora Clark (Jenna Dewan), who find themselves paired up in a showcase that determines both of their futures. Realizing that they only have one chance, they finally work together.
Channing Tatum and Jenna Dewan have this amazing connect and chemistry between them,you can feel them dancing. Tyler has to do community service in a Performing arts school where he meets Nora and agrees to rehearse with her until her partner is back,but as in every successful story,things don't go the way you want them to. The songs selection is amazing. The story is delicious with gunshot kills,stealing cars, mixing ballet with street moves, deceit,it has almost everything. The dance sequence in the club is very energetic and refreshing. But the highlight of this movie has to be the last performance between Tyler and Nora with the other dancers behind. Its a beautiful dance playing on Bout it (Instrumental)-Young Joc ft. 3lw. A must watch for all kinds of people,this movie won't disappoint you.
3. The Last Song (2010)  
The Last Song is a 2010 American coming of age teen romantic drama film developed alongside Nicholas Sparks' novel by the same name. The film was directed by Julie Anne Robinson in her feature film directorial debut and co-written by Sparks and Jeff Van Wie. The Last Song stars Miley Cyrus, Liam Hemsworth, and Greg Kinnear and follows a troubled teenager as she reconnects with her estranged father and falls in love during a summer in a quiet Southern United States beach town.
Here's the revelation: Miley Cyrus is a really interesting movie star in the making, with an intriguing echo-of-foghorn speaking voice, and a scuffed-up tomboyish physicality (in the Kristen Stewart mode) that sets her apart from daintier girls. The movie moves Miler from where she was to more or less where she and her handlers wanted to be, and Greg's musician father, Steve, adds a generous measure of grace.
2. Dear John (2010)  
Dear John is a 2010 American romantic drama-war film starring Amanda Seyfried and Channing Tatum. It was released theatrically in North America on February 5, 2010. The film was directed by Lasse Hallström, and it is an adaptation of Nicholas Sparks's novel of the same name. It follows the life of a soldier (Channing Tatum) after he falls in love with a young woman (Amanda Seyfried). They decide to exchange letters to each other after he is deployed to the war. The movie was filmed in 2009 in Charleston, South Carolina.
Ooooooh nice movie!! This was a sweet love story with U-turns in the lives of the main characters that conclude in a very nice ending. Sadness abounds, but true love wins out in the end. No violence, foul language or trash in this one—just a charming love story. Dear John carefully distills selected elements of human experience and reduces them to a sweet and digestible syrup. It may not be strong medicine, but it delivers an effective, pleasing dose of pure sentiment and vicarious heartache. The father-son relationship stands out in this sentimental and satisfying drama. I got to admit that I cried in this movie.
1. The Notebook (2004)  
The Notebook is a 2004 romantic drama film directed by Nick Cassavetes, from a screenplay written by Jeremy Leven and Jan Sardi, which is in turn based on the novel of the same name by Nicholas Sparks. The film stars Ryan Gosling and Rachel McAdams as a young couple who fall in love during the early 1940s. Their story is narrated from the present day by an elderly man played by James Garner, telling the tale to a fellow nursing home resident, played by Gena Rowlands (who is Cassavetes' mother).
The best of them all. NO words can explain the movie to me. All I can say is this is based mostly on love nothing near looks. I will promise anyone out their who watch's the movies theirs a probably good chance your going to feel something in your heart or your going to cry. I give this movie a full 10 out of 10. Its the most amazing movie I have ever seen. I'm not one for soppy romantic movies but this one pulls at the heart strings. An older gentlemen reads a story to an elderly lady in a nursing home. Excellent cast and story. Ryan and Rachel make a good on screen and off screen couple. Kevin Connolly plays Fin, Noah's best buddy. James Marsden plays Allie's dashing new society beau.
So here it is, The Top Ten Romantic Movies You Must Watch. Now, what are you waiting for? Rent/buy these movies on the nearest movie store now!
cr: Wikipedia ; Rotten Tomatoes; IMDb; The Top Tens
Latest posts by Mary Diniel (see all)